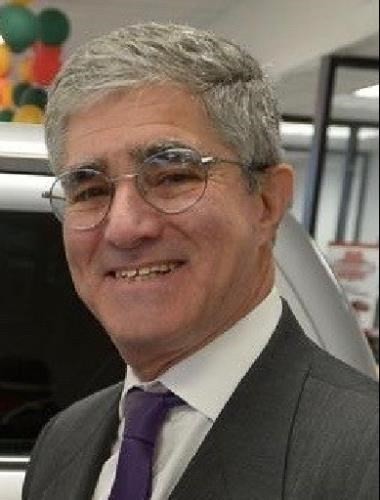 When Michael Brenner was a young man, he learned the ins and outs of running his family automotive business.
Years later, he and his younger brother, Eddie, became the third generation of the family to do so.  They ran Brenner Family of Dealerships together for years until Eddie's untimely death in 1996.
 Michael Brenner then ran the business until he died on Dec. 14 of complications related to COVID-19. He was 68. Now, his three children -- Robert, Sam, and Jesse --are working to lead the organization and its legacy into the future.
Brenner was President and CEO of the Brenner Family of Dealerships. The business was founded in 1921 by Ephraim Brenner, his grandfather. Over the years, the business sold Dodge, Kia, Cadillac, Nissan, and Jeep vehicles among other major name brand vehicles.
Brenner saw the need to provide financing to unserved members of the community and shifted his focus to building the business' car credit and pre-owned locations as the future of Brenner Family of Dealerships.
In 2018, the company got out of the new car business. The company sold its new car dealerships -- Brenner Nissan and Brenner Chrysler and Jeep -- to the Faulkner Auto Group.
 Now, 100 years after beginning, the Brenner business runs a full-service pre-owned sales automotive company, service, collision centers, and car credit dealerships. The business has expanded to reach Mechanicsburg, Carlisle, Chambersburg, Selinsgrove, Williamsport, and Mifflintown.
Brenner was an honest, hard-working professional who treated his customers respectfully and fairly. His generosity went far beyond his career.
"Michael rarely said no when asked for help," said Michael Solomon, a life-long friend. "He was generous without hesitation. The community could depend on him. He will be missed a lot. His death was a shock to everyone."
Solomon said he and Brenner grew up together.
"His (late) brother, Ed, was one year older than me and Michael was two years older," he said. "When we were in elementary school in the 1960s, we were in Cub Scouts together in a troop at Ohev Sholom Temple, the only Jewish Boy Scout troop at the time."
Solomon said Brenner earned every scouting badge he could.
Calling Brenner "a role model and the paragon of decorum, discipline, and success," Solomon recalled his friend's "air of maturity and common sense. Other kids, myself included, goofed off a bit more. But not Michael. Our Dad used to tell us we should behave like Michael Brenner."
Although they went to two different high schools – Brenner to Central Dauphin and Solomon to Susquehanna -- they stayed in touch. As adults, both were involved in the local Jewish Community.
Brenner gave freely of his time, serving on the boards of such organizations as the United Way of the Capitol Region, where he was past campaign chairman; CREDC Loan Committee, where he was past chairman; Legacy Bank of Harrisburg, Boys and Girls Club of Harrisburg, Harrisburg Public School Foundation, and Susquehanna Township School District Advisory Council.
 He was financially generous in his quiet way through company sponsorships and philanthropic donations.
He also was very involved in the Jewish community and belonged to Temple Ohev Sholom, Temple Beth El, Chisuk Emuna (all in Harrisburg), and Congregation Beth Or in Ambler, Pennsylvania. He served on boards of the Campus of the Jewish Home of Greater Harrisburg and the Endowment Fund of the United Jewish Community of Greater Harrisburg (now Jewish Federation).
"In Judaism, the two highest forms of charity are to help someone in need whether it be through a loan, a partnership, a grant, or a job, and to do this anonymously," said his daughter, Jesse Brenner. She said her father "whole-heartedly believed in these principles and would mention them when discussing his generosity, though this didn't happen often."
She and her brother, Sam, agreed that their father was very humble. "His view was that everyone should want to contribute and share in the responsibility of community welfare. He certainly did. His style of leadership was that of setting an example."
The Brenner family was so generous to the local Jewish Community that the Brenner Family Early Learning Center, which provides quality child-care and education for children ages six weeks to five years at the Harrisburg JCC, is named for them.
"The Brenner family always has been generous," Solomon said. He recalls being the chairman of the Federation's campaign one year when Brenner's Aunt Josephine (who was called Aunt Josie and was also very charitable) passed away before fulfilling her generous pledge to that year's campaign.
 "I called Michael Brenner," Solomon said. "As soon as I told him, he said that amount would be paid.  He didn't think twice about it and paid it without hesitation. He was a gentleman. No matter who you were or what your station in life, he would talk to you eye-to-eye and make you feel comfortable. He respected people. "
Although Brenner was hard-working, Solomon said that he enjoyed hobbies such as skiing, reading, and watching football. He loved college football and formerly was a Green Bay Packers fan. He switched his football allegiance to the Philadelphia Eagles when he relocated to raise his family in suburban Philadelphia and his daughter talked him into taking her to games.
In addition to his three children, Brenner is survived by his partner, Dr. Varsha Shukla Lift, and his sister, Barbra Brenner.