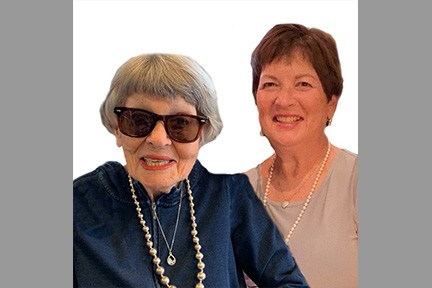 By Adam Grobman and Joan Jeffein Miller
Since the beginning of the pandemic, many of us have tried to keep busy while confined to our homes, picking up new hobbies, skills, and interests.  We've engaged in activities such as binging on Netflix, playing card games on the computer, purging unused items, and Zooming with friends.
One person in our community turned to food.  Not just consuming it, but collecting decades full of recipes and memories from her mother and close family friends. 
Joan Jeffein Miller, a retired Harrisburg attorney, took this opportunity to sort through her mother's handwritten recipes and family photographs to put together a collection of recipes that culminated in a cookbook, entitled Cooking with Grandma Janet.
Some recipes are written on index cards, scraps of paper, and even tattered envelopes.  Many of the handwritten recipes are stained with "schmutz " as Joan likes to say….or remnants of the ingredients her mother used to make the dishes.
"These recipes aren't hard to make," she says. "A lot of them – like kugels and briskets – definitely aren't foreign to the Jewish community. I'm hoping it revives memories for everyone who reads it. Even if they just look through it and put it down without cooking, it's a happy book in this difficult time."
Joan came up with the idea for a cookbook about twelve years ago.  At that time, she told her mother that she wanted to preserve her favorite recipes for her children and extended family.
Joan asked her mother, Janet, to write two poems to her grandchildren, both of which are included in the book.  It was providential that Joan began this project those many years ago, because soon after she made this request, her mother was diagnosed with dementia.
Joan made a small cookbook at that time, but during the pandemic, took a second look and decided to revise it.  One of the reasons for the revision was to include recipes recently found among her mother's papers.  The other, and most important reason, was to tell her children about the connection between the recipes and those family members and her mother's family friends whose recipes she made.
"It's my life in pictures, through food," Joan says, noting that the book is sprinkled with photos of her mother's friends, who she frequently referred to as her 'aunts'. "It's all about family, love, and friendship."
Joan says that the last year has been difficult, not being able to be near her mother due to the pandemic. However, she is looking forward to soon being able to see her mother again. Janet has seen the book and enjoyed it.
Joan has already given away more than half of the 200 copies she created, many to family members and friends.
The book is available to any and all community members – Joan requests a $10 donation which will be contributed to the Alzheimer's Association.
Checks can be made out to Joan Miller, who will donate all the proceeds, and sent to 4049 Greystone Dr. Harrisburg, PA 17112. For more information, contact Joan at 717-574-7817 or jjmesq1957@gmail.com
"This is a way of giving back to my mom," she says. "Her legacy will continue through this book."